"The Zero Mile Diet" (Oct. 5th. 2010)
There is a recent a book titled: "The Zero-Mile Diet" (Carolyn Herriot) which encourages us, in Canada, to grow our own fruit and vegetables very locally rather than buy imported produce from far away.The point behind such a suggestion is to help reduce our "Carbon Footprint" by reducing transportation and the resultant greenhouse gas emissions. This notion is very well intended.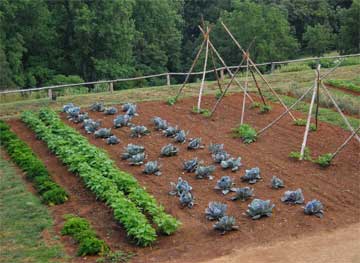 We ought to agree with the idea of growing fresh vegetables and fruit in our back yards. Reducing visits to the supermarket to buy produce which often originates in places like Mexico or Ecuador seems to be a good thing. However, buying produce from developing countries might be actually kinder to the planet than from agricultural outlets in many northern temperate climates. This would be vastly more useful to the people most at risk from climate change.
Today, a large percentage of populations in developing countries depends on agriculture for a livelihood. Many countries have no realistic prospect of achieving many of the the basic living standards we enjoy in most of North America and many more fortunate countries. This is why the vegetables grown in many sub-tropical and tropical areas are so important. Exports from such countries earn them more needed money, making horticulture a most valuable local industry. Environmental upsets like droughts and other adverse weather cause suffering that can be devastating. When conditions are stable, the advantage through export of fruits and vegetables must be taken and there must be a guaranteed market.
Should we stop buying imported produce, start growing our own and buy very locally?
Many state that the carbon footprint resulting from long distance, often air-freighted food, is not sustainable and will increase. But, we know that in many developing countries, a large per cent of crops are grown on farms by hand in the old-fashioned, labour-intensive way. As anyone who tends an allotment knows, this produces higher quality vegetables and lower carbon emissions than northern industrial farms. Indeed, even the government realizes how much our current agriculture pollutes: Our farmers are often told to adopt greener practices or face deductions in their subsidies. In northern climates much more energy is needed to produce the same product, as compared with that originating from poorer southern countries.
Very little of emissions from all imported freight adds to our total carbon footprint, whereas passenger air travel contributes much more. To stop importing vegetables, then, would penalize these developing countries while ignoring the effect of unnecessary tourist air travel.
To support this, last year an American study of the entire lifecycle of a food, from field to plate, found that production methods in North America account for over 80% per cent of the total carbon footprint, compared with around 10% per cent from transportation.
All this being said, of course it would be a good thing if every household were to grow some of its own vegetables but it makes more ethical and environmental sense to also continue buying produce from developing countries to our south as we need them. And if you care about the planet, cook them in the microwave, not the oven.
I grow vegetables in my garden and intend to increase this but I still will go to the local supermarket to get my favourite bananas and avocados! If and when the source from the south ceases, we will have to adapt accordingly.
That would be very sad for the people who live there.We should support them in every way we can without hurting agriculture in our own country. Right now, we should maintain a balance between imported, house-hold grown and our own commercial produce. The percentages of each can be later monitored and modified as needed. We really do not know what direction climate change will take each country.
BY ALL MEANS GROW YOUR OWN PRODUCE AS THE SEASON AND YOUR LAND SPACE ALLOWS BUT DON"T FORGET THE FARMERS IN DEVELOPING COUNTRIES WHICH NEED OUR CUSTOM AND WILL INCREASINGLY RELY ON IT! SUPPORT YOUR LOCAL FARMERS MARKET BUT NONE OF THESE INITIATIVES SHOULD BE EXCLUSIVE TO OUTSIDE SOURCES.